His Heart was in Julfa: Petrus Uscan and his Will

May 11, 2015
Will of Coja Petrus Uscan (Խօջա Պետրոս որտի Ոսկանի) who hailed from the formidable Veligianian family of New Julfa whose members were dispersed to the four corners of New Julfa's global network. My favorite Veligianian is Coja Martinus Velegianus, who was a citizen of Venice by the mid-seventeenth century (1650s), was buried there (as a Catholic) in the beautiful church of San Moise in 1686. Martinus left two generations of offspring behind in Venice, beginning with his son Hayrapet di Martin (Erapiet di Martin) whose letters are scattered across a dozen archives in Europe, including at the British Library.
The will, from which there are three selected pages below, is perhaps of the wealthiest Velgianian, Coja Petrus Uscan at one point the wealthiest Armenian in Madras in the period from 1730 till his death on 15 January 1751. He was probably also one of the wealthiest men of commerce in the British outpost at his height. A convert to Catholicism, Coja Petrus made his fortunes, it seems, where most Julfans did, in Manila where he was trading after he left his hometown in 1705.
Petrus di Uscan's stands out among his contemporaries for at least two reasons. First, his will with its multiple codicils, drafted beginning in 1746 and completed in 1751 before his demise at the age of 70, is surely the longest Armenian will in existence, weighing in at just below 200 pages. Petrus Uscan is unusual for a second reason. His will contains a very unique request to his executors: to have his heart surgically removed from his body and transported in a golden box for special burial in his home town of Julfa. Here is the passage where Uscan asks for his heart to be taken to Julfa after his death:
"That after my Death according to the Pleasure of God and the Delivery of My Soul to Christ, they shall immediately send for a Physician and take My heart out of my body and prepare it with necessary Ingredients that it should not be corrupted and Shut it up in a Box, as the reason for sending it to my Padre [sic] is set forth in this volume."
He then writes that wherever and whenever he dies he wishes for his body to be interred in his church at Vepery and "his heart taken out of his Body and carried unto Julpha to his own Country for the sake of the Love thereoff and the said heart is buried in the Great town of his Birth Place." (folio 117)
Petrus Uscan was the second Julfan merchant to wish to be buried in Julfa after dying in India. The other was Khwaja Maroot son of T'asali who was burid in Julfa in 1707 after he passed on in India.
Petrus Uscan's body was buried in his own privately built chapel later church of Nossa Seniora de Luz in San Thome, Madras. The Latin inscription there of which the English translation from Seth's book is given below, makes reference to his "heart" being at Julfa. But I bet no one seeing the tombstone actually took those words literally as they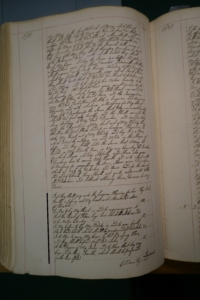 were meant to be:
"Raised on High by his renown, his head hidden in the clouds, here lies sunk beneath the sod, one who reconcileddiscord and appeased strife, the strong support and pillar of the Armenians, the protector and warm defender of the poor, a man generous and liberal in repairing the loss suffered by the public, one who spent his money lavishly and without stint to promote the worship of God and sacred buildings, Petrus Uscan, [grandson] of Coja Pogus, an Armenian whose heart is at Julfa. Aged 70, he departed this life on January 15, 1751." (Seth, 586)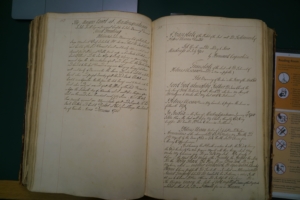 Petrus Uscan also built the famous Marmalong Bridge of Madras in memory of which the monument in image below.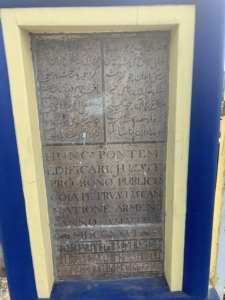 Caption: Inscription on Madras's Marmalong Bridge built by Petrus Uscan in 1726:
ՇԻՆԵՑԱՒ ԿԱՐՄՈՒՆՃՍ [sic] ՋՈՒՂԱԵՑԻ ԽՕՋԱՅ ՊՈՂՈՍԷՆՑ ԱՍԿԱՆԻ ՈՐԴԻ ՊԵՏՐՈՍԻՆ ԱՐԴԵԱՄԲ ԵՒ ՎԱՍՏԱԿՈՎՔՆ ԹԻՎՆ 1726

THIS BRIDGE WAS BUILT WITH THE WORK AND EXPENSES OF KHWĀJA PETRUS SON OF USCAN OF THE FAMILY OF KHWĀJA POGHOSENTS' IN THE YEAR 1726