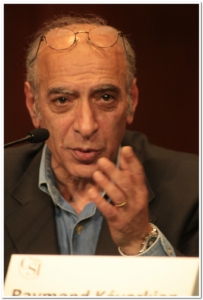 The Richard Hovannisian Chair of Modern Armenian History is honored to establish an annual Armenian Genocide Commemoration Lecture to be delivered by a distinguished scholar in April of each year. The lecture series is named after Raymond Haroutiun Kévorkian in recognition of his many contributions to Armenian history and especially for the transformative nature of his archivally grounded and rich studies that have set new foundations for scholarship on the Genocide of 1915-1923 perpetrated by the Young Turk Regime.
Raymond H. Kévorkian is a French-Armenian Historian and one of the leading scholars of the Armenian Genocide. He is a director of research emeritus at the Institut Français de Géopolitique (Université Paris VIII, Saint-Denis) and President of the Armenian Genocide Museum-Institute Foundation in Yerevan. Until his recent retirement, Kévorkian was the director of Paris's celebrated Bibliothèque Nubar – the Armenian Library in Paris, where many genocide-related documents were preserved by the library's first director, Aram Andonian.
Aptly referred to by Donald Bloxham as the "Raul Hilberg of Armenian genocide studies," Dr. Kévorkian is a prolific scholar and author of around thirty monographs and multiple articles. His scholarship has been dedicated to exploring different facets of the history of Ottoman Armenian society from the seventeenth to the twentieth centuries. Covering a broad spectrum of themes from early modern Armenian print culture and book history (histoire du livre) to specialized studies of modern mass violence in general and the Armenian genocide in particular, Kévorkian's work has been foundational to the modern scholarship of the Armenian and other genocides. His publications include the seminal Catalogue des 'incunables' arméniens (1511–1695) ou chronique de l'imprimerie arménienne (Genève: P. Cramer, 1986)  Les Arméniens dans l'Empire ottoman à la veille du génocide, with Paul B. Paboudjian, (Paris: Arhis, 1992), Arménie entre Orient et Occident : trois mille ans de civilisation, (Paris: Bibliothèque Nationale de France, 1996), and numerous archivally grounded essays and monographs on the Armenian genocide such as L'Extermination des déportés arméniens ottomans dans les camps de concentration de Syrie-Mésopotamie (1915–1916), la Deuxième phase du génocide, (Paris, RHAC II 1998), culminating in his monumental The Armenian Genocide: A Complete History (2011). In addition to being a pioneer in the methodical use of Armenian-language primary source documentation in the scholarship of the Armenian Genocide, Kévorkian was also the first to identify and study the second phase of the genocide extending roughly from February to December of 1916. As a result of spending decades reading and assessing documentation left behind by survivors, Kévorkian was able to painstakingly reconstruct a network of concentration camps in Syria and Iraq that played a pivotal role in the Ottoman empire's efforts to exterminate its Armenian population.
Kévorkian is a Chevalier de la Légion d'Honneur and a foreign member of the Academy of Sciences of Armenia. His most recent publication is Collective and State Violence: Homogenization and Construction of National Identity in Turkey, co-authored with Stephan H. Astourian, (New York: Berghahn, 2021).